We've already posted on here about the Virgin Trains Christmas Campaign. We wanted to share this update with you ...
The Romans agency's work on Virgin Trains'#itsawonderfulline campaign has been lauded, recognised and nominated within the PR / B2C section of the prestigious A & AD Awards 2019.
We are delighted that this uber large campaign has been recognised and are grateful all our hard work behind the scenes on the layout, drawing files and then manufacturing 1200 odd stencils behind the scenes was worthwhile..
The award ceremnoy was last night and The Romans were unfortunately pipped to the post in this category.
You can read more about the D & AD Awards 2019 and watch The Romans fab Virgin Trains Campaign video here.
If you are planning your own large scale stencils campaign need any more advice you may want to check out our extra extra large scale stencils page.
Or have a look at some more photos of the text stencils:
The De Walt paint sprayer was really effective appying the #it'sawonderfulline logo stencil yellow, to match the safety line.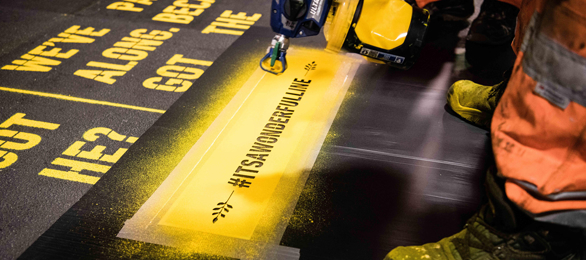 Once the entire stencil roll was spray painted, each stencil was carfully removed leavig the script on each platform.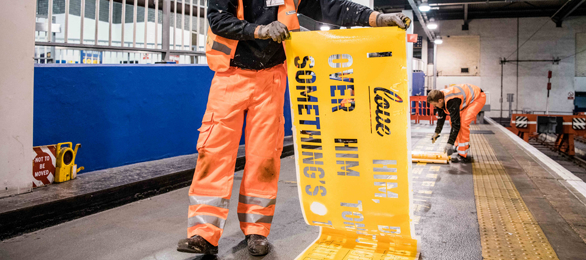 This shot shows the finished platform at London Euston, winding it's way into the distance, over 190 metres away!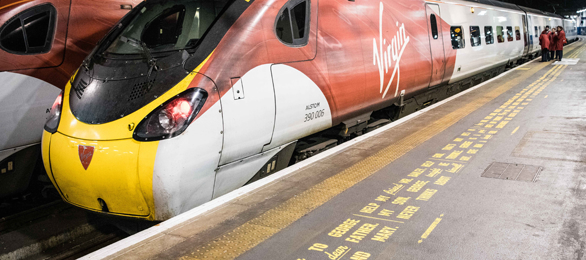 Client : virgintrains.com
PR agency: wearetheromans.com
Commercial decorators: bagnalls.co.uk